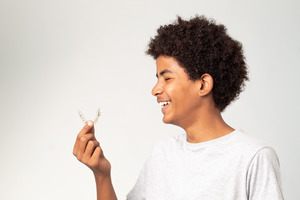 If your teenager started Invisalign treatment during the summer, then you've probably been keeping an eye on them to make sure it goes smoothly. However, once school starts again, they'll be out of your sight for a good portion of the day. As such, it's best to take certain steps to make sure the treatment is staying on track even when you're not there. Here are 5 back-to-school tips that can make life easier for teenagers with Invisalign.
1. Think Carefully About What You Pack in Their Lunch
Whenever your teenager switches to a new set of aligners, their teeth may be somewhat sore. This is only temporary, but it can make eating more difficult. As such, when packing your teenager's lunch, it may be a good idea to stick to foods that require little to no chewing, such as yogurt, oatmeal, and soup. Talk to your teenager to see what kinds of soft foods they might enjoy while they're adjusting to new aligners.
2. Make Sure They're Practicing Good Oral Hygiene
Once your teenager is done eating, they'll need to brush their teeth thoroughly before putting their aligners back in. Otherwise, food particles may end up trapped against their smile for far too long, thus increasing their risk for cavities. Make sure that your teenager brings a toothbrush and travel-sized toothpaste to school so that they can practice proper oral hygiene after lunch.
3. Help Them Practice Speaking Clearly
Invisalign can sometimes cause your teenager to speak with a lisp, which may take a toll on their self-esteem. Fortunately, you can help them overcome this type of speech impediment by helping them practice their enunciation. Encourage them to repeat any words that are causing them trouble; this can help them adjust faster.
4. Make Sure Your Teenager Always Has Their Aligner Case
If an aligner is lost or broken, it could disrupt the Invisalign process. As such, you should make sure that your teenager always brings their aligner case to school. That way, whenever they need to take their aligners out, they'll always have a safe place to put them, and they'll know exactly where they are when it's time to wear them again.
5. Give Them Tips for Dealing with Dry Mouth
Dry mouth is often a side effect of Invisalign treatment, and it can be uncomfortable for your teenager. On top of that, people with dry mouth tend to be at a higher risk for gum disease. The best thing you can do is to give them advice for dealing with the problem, such as drinking a lot of water.
About the Author
Dr. Alison Fitzgerald enjoys how her career allows her to do detailed work while allowing her to learn new things on a regular basis. She has attended advanced courses with Progressive Orthodontics, the American Orthodontic Society, the Kois Center, and Partners in Synergy. She gladly offers Invisalign as an alternative for patients who may not want to wear traditional braces. To schedule a consultation with Dr. Fitzgerald at Sweet Smiles Family Dentistry & Orthodontics in Tucson, visit her website or call (520) 338-2980.