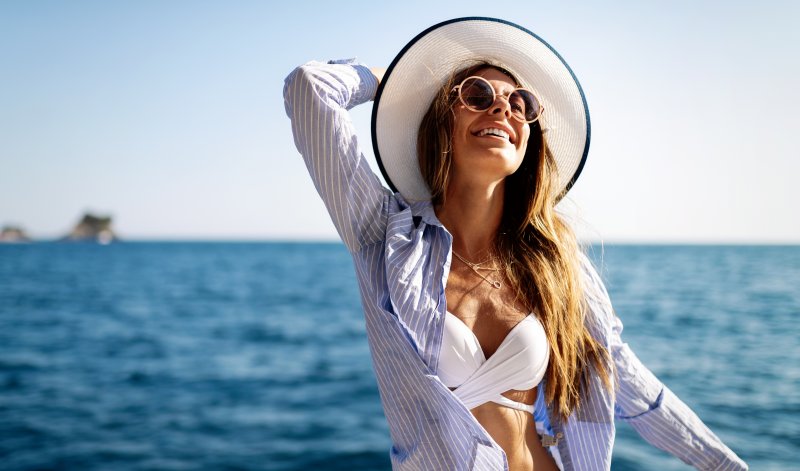 Summer is swimsuit season, so you're probably doing what you can to get a beach-ready body. But if you really want to dazzle people, you also need a beach-ready smile!
Cosmetic dentistry can erase all kinds of aesthetic issues you might have with your pearly whites, giving you teeth that you'll be proud to show off this summer. Here are a few treatments you could use to get a smile that'll impress people.
Teeth Whitening
One of the fastest and easiest ways to transform your smile is to change its color, especially if you've had fairly yellow teeth for a while. There are all kinds of ways that your teeth can start to collect stains, but no matter where they came from, professional whitening can melt them away to give you a smile up to eight shades whiter.
By applying a sophisticated whitening solution to the teeth and using a specialized light to cause it to set in, they can transform your smile within just one appointment.
Cosmetic Dental Bonding
If you have chipped, cracked, or broken teeth, you're probably used to covering your mouth when you smile to hide the damage. You may be happy to learn that this kind of superficial damage can completely disappear after just one trip to the dentist.
Using cosmetic dental bonding, your dentist can cover up these imperfections. They can layer a tooth-colored composite resin onto your smile and use a specialized light to harden it into place, restoring your pearly whites to perfection.
Veneers
If your smile could use a serious overhaul, veneers allow you to reach the teeth of your dreams, no matter what they look like now. Your dentist can layer a small shell of porcelain onto your teeth, covering up any problems that you may have with your smile.
If you really want to wow people with a beach-ready smile, veneers can give you teeth you'll be proud to show off!
About the Author
For nearly 15 years, Dr. Alison Fitzgerald has been able to help her patients get more beautiful and healthy smiles. There's nothing she loves more than being able to get to know her patients and see the difference her work makes in their lives. Dr. Fitzgerald received her degree from the Creighton School of Dentistry, and since then has studied extensively at Partners in Synergy, the Kois Center, Progressive Orthodontics, and the American Orthodontic Society.
If you have any questions about cosmetic dentistry, we can be reached at our website or by phone at (520) 338-2980.