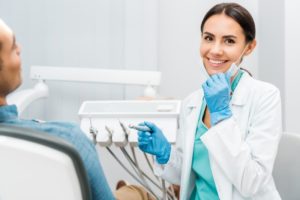 Since the turn of the 20th century, there has been a steady increase of women in the workforce every decade. Females began to prove that they could be successful in careers that were once thought of as something "only a man can do". This includes dentistry! The first woman to become a licensed dentist was Emma Gaudreau Casgrain in 1898. Now it is widespread to have females in every aspect of professionally caring for the public's oral health. Here's more from your dentist in Tucson about women in dentistry for International Women's Day!


The Number of Women with Dentistry Degrees Keeps Increasing
Even in recent times, the number of women pursuing a career in dentistry is ever-increasing. Data from the Health Policy Institute shows that the percentage of women who graduated from dental school grew from 46% to 50.6% between 2009 and 2019. And the increase also applies to those who joined the workforce! The percentage of dentists in active practice who are women grew from 24.1% to 34.5% between 2010 and 2020.
There Are Prominent Female Figures in Dentistry
Perhaps due to years of inequity in so many professions, studies show that female students are significantly more influenced by a role model's gender than male students. Essentially, female students feel much more motivated and inspired when learning about a successful woman in their field than a successful man. When choosing a career role model, female students will most often choose someone of the same gender they feel they may face similar industry challenges to the women that inspired them. This may explain the increase of women pursuing dentistry—the more they excel in dentistry, the more other women are inspired to follow in their footsteps!
Female Dentists Provide a Different Dental Experience
For many, many years, most dental leadership positions were male-dominated. But now, as shown above, more females are representing this very important industry and service. As a matter of fact, female representation is now at an all-time high!
Why is this such good news? It's been shown that female dentists are likely to bring a different approach when dealing with patients' oral health, including their decision-making process. Men have been proven to base their decisions with a focus on objectivity, logic, and consistency. On the other hand, women reported being more motivated by how they feel. For instance, they use their personal values, sympathies, and desires to maintain harmony and tact while giving patient care.
It's a common occurrence for people to dread going to the dentist. However, as more women enter the field, it's being viewed as a "safer" place and these views are beginning to evolve. As stated above, studies show that female dentists bring different traits and practices to their practices. They are likely to be more empathetic and have better communication with their patients. They even appear to be less rushed and willing to discuss their patient's dental issues and concerns in a more caring way than male dentists.
While the field of dentistry used to be male-dominated, times have changed! Women have become a crucial part of the oral healthcare field. So, take to time to celebrate a female dentist this International Women's Day!
About the Author
Dr. Alison Fitzgerald and her team at Sweet Smiles Family Dentistry and Orthodontics are eager to help keep your smile whole and healthy! She earned her dental doctorate at the Creighton School of Dentistry and has completed advanced courses at many world-renowned teaching centers, including the Kois Center. She provides a full range of dental services, including preventive, restorative, cosmetic, and emergency care. To schedule an appointment, contact her through her website or call (520) 881-8902.