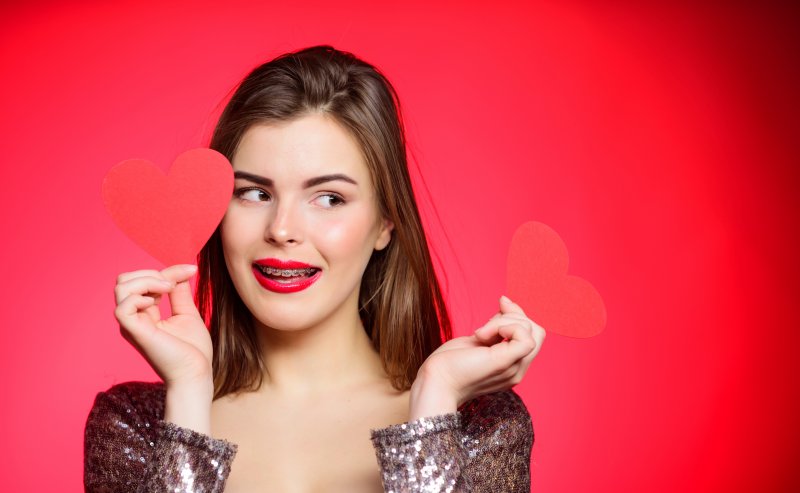 Valentine's Day is almost here, which means people are thinking now more than ever about how to make a good impression. If you currently have braces, you're already on the path to having your ideal smile; but while you have them, you might worry that your orthodontic appliance will affect your chances on a first date.
Fortunately, that doesn't have to be the case. Here are some things to keep in mind when you're dating with braces.
Make Your Braces your Style
If you had expensive metal on your wrist or around your neck, it'd be something to show off. You can flex your braces in the same way! Wear them with pride. If you seem uncomfortable with smiling your braces might put someone off—but if you smile big and project confidence, you might just make a better impression than you would have without them.
Pick Braces-friendly Dates
When you go out, you don't want to snap a wire or have a bracket fall off. That's why it's important to think a little bit about where you want to take your date. If you go out to dinner, you might want to avoid places with a lot of sweets, or where you could potentially run into some foods that you're avoiding.
Of course, you can still go to these places if you'd like, but you should think carefully about what you eat while you're there. You can still catch a movie, for example, but don't go expecting to get popcorn and candy.
Find Time to Clean
If you're anxious on a date, you might feel like you need a breather. Take that opportunity to clean your braces, or your aligners if you're undergoing Invisalign treatment. That way, you'll be able to keep your orthodontic appliance in good condition.
Bring Dental Wax
When you're talking, eating, and smiling you want to be at ease as much as possible. Being poked by your braces can make that a little bit difficult. Slip some dental wax in your pocket before you leave the house, and apply it to any problem areas before your date shows up. That way, you can make the best impression possible.
Braces are putting you on the road to a beautiful smile, but they're also beautiful in themselves. Remember that, and you'll be able to impress anyone.
About the Author
For over 15 years, Dr. Alison Fitzgerald has been helping her patients feel comfortable with themselves by providing them with the smiles of their dreams. She loves getting to know her patients so that they can feel at ease through every part of treatment. Dr. Fitzgerald graduated from the Creighton School of Dentistry, and she has received advanced training from the Kois Center and the American Orthodontic Society, among others.
If you have any questions about dating with braces, we can be reached at our website or by phone at (520) 881-8902.